I have a sweet tooth since ….. I don't know from when. I need my "chocolate fix" or a bite of any other desserts every once in a while.
Not a great thing, I know!
But these days, I am in search of recipes which are delicious and at the same time healthy too. I also want to set an example of healthy eating for my kids.
That's how I started making chia seed pudding. It is tasty, sweet, healthy, and awesome!
And it takes only minutes to prepare. It is a healthy option for breakfast if you have busy hectic mornings like most moms of school-going children.
WHAT ARE CHIA SEEDS AND WHAT ARE THEIR HEALTH BENEFITS?
Chia seeds are one of the healthiest foods available to us. These nutrient-rich seeds contain protein, fiber, minerals, antioxidants (more than blueberries), calcium, omega-3 fatty acids, etc.
Chia seeds are safe to eat for kids too. In fact, it is an excellent source of nutrients that kids need.
The health benefits of chia seeds are:
Their high antioxidant content helps to reduce the risk of diseases like cancer, heart diseases, and other inflammatory diseases.

Their fiber content helps you to stay satiated for longer and fiber is good for healthy digestion too.

Chia seeds offer all nine essential amino acids and thus are a good source of protein.

Chia seeds contain high amounts of minerals such as calcium, phosphorus, iron, copper, manganese, etc. These minerals are required for good bone health, metabolism, tissue maintenance, and other important bodily processes. Note that the absorption of minerals such as iron and zinc may be reduced because of the phytic acid content of chia seeds. (Source: healthline.com)
HOW DO YOU PREPARE CHIA PUDDING?
Chia seeds are very absorbent and become gelatinous when mixed with liquid. However, that's not the only way you can prepare chia seeds.
Chia seeds can be eaten raw. You can add them as such into smoothies, juices, yogurt, oatmeal, baked goods, and salads. They taste bland, so you can add chia seeds to pretty much anything.
While doing my research, I saw some people complaining about how eating raw chia seeds can cause blockage in the intestine. It is because chia seeds absorb water and if your body doesn't have enough water, it can absorb water making you dehydrated and bloated.
So when you eat raw chia seeds, make sure you drink a lot of water after eating.
To make the basic chia seed pudding, you need only 3 ingredients: chia seeds, any milk of your choice, and a sweetener of your choice.
And then you can use your own imagination and creativity by adding toppings and flavors of your choice.
Here I have three chia pudding recipes: Strawberry chia pudding, Chocolate banana chia pudding, and Blueberry chia pudding.
HOW TO MAKE THE BASIC CHIA PUDDING
I recommend you mix the chia seeds with milk and leave it for soaking in the jar that you use to eat so that it's easy to grab before eating. Regarding the quantity of chia seeds, it depends on the consistency you want for the pudding.
What works for me is, 3 tbsp of chia seeds for 1 cup of milk.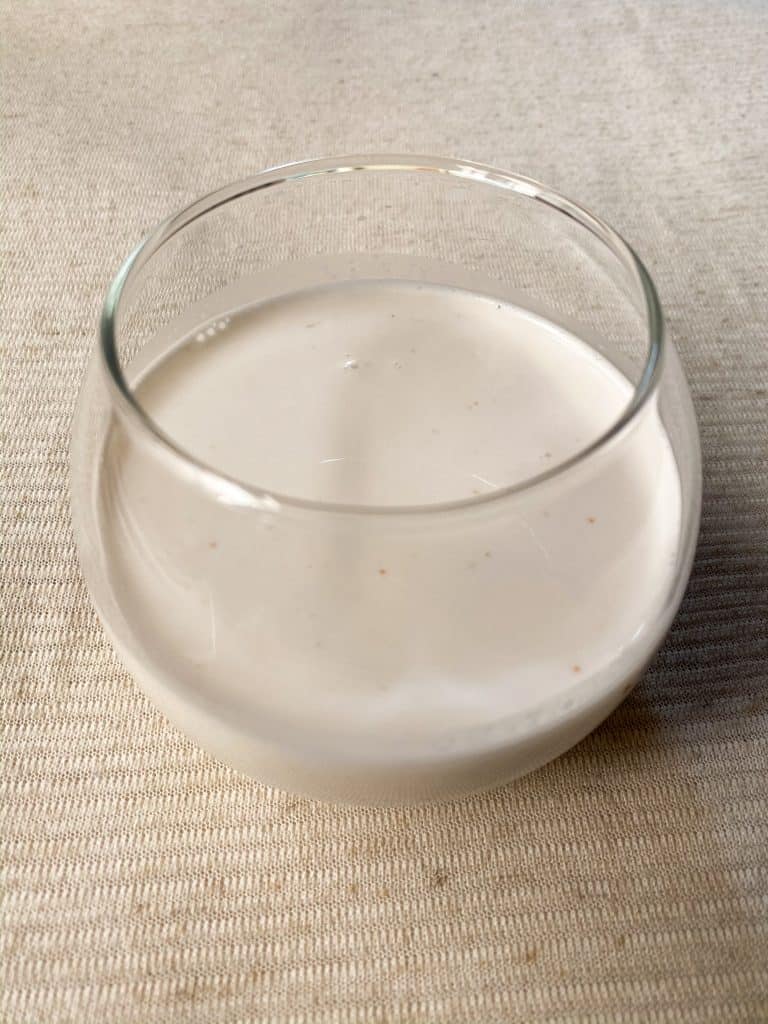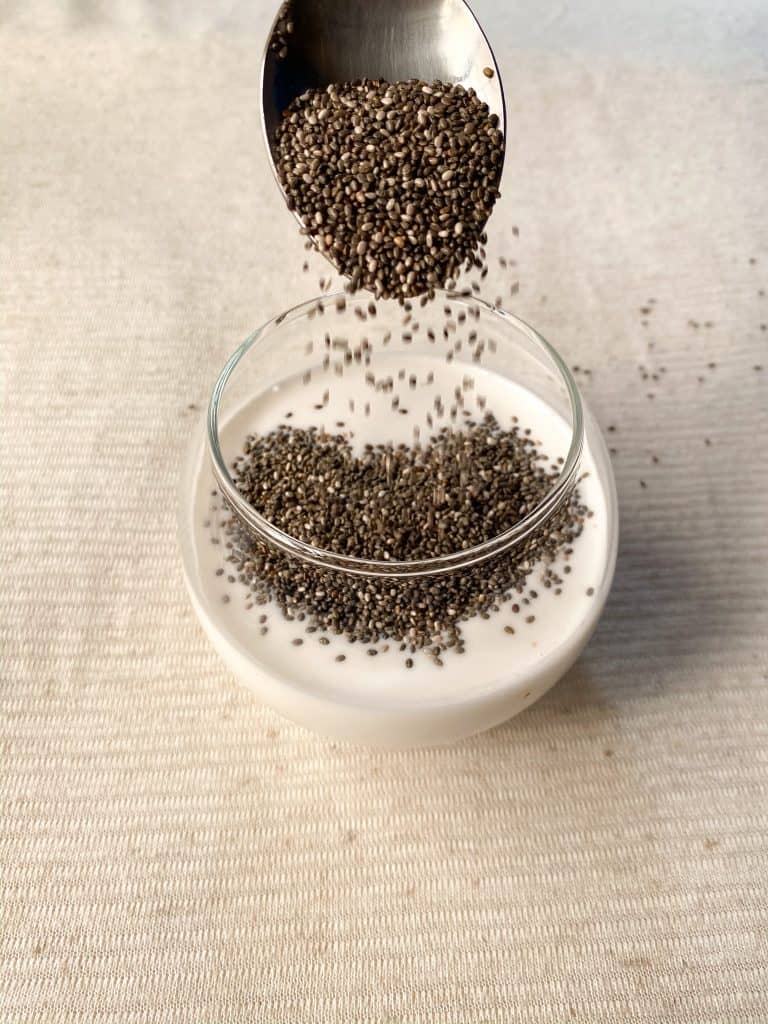 After adding chia seeds, mix it well with a fork so that they do not form clumps. Let it settle for a few minutes and start absorbing the milk and then stir well again, to make sure there are no clumps.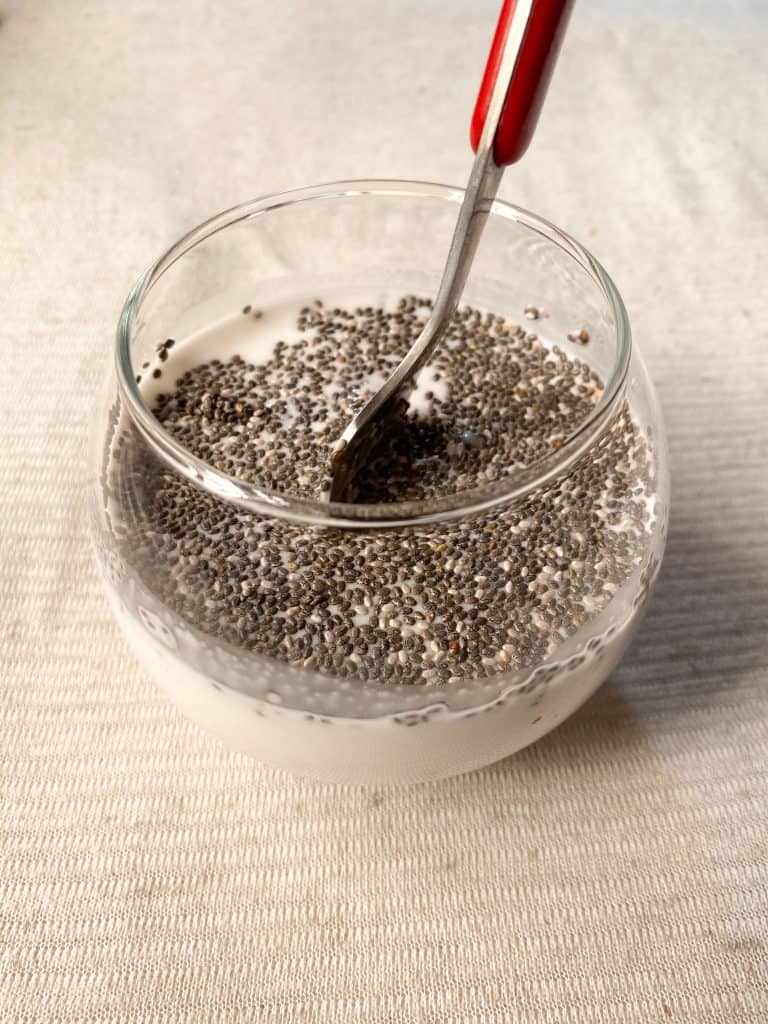 Then add the sweetener of your choice. Usually, I add honey. If you don't want to use a sweetener that's fine too.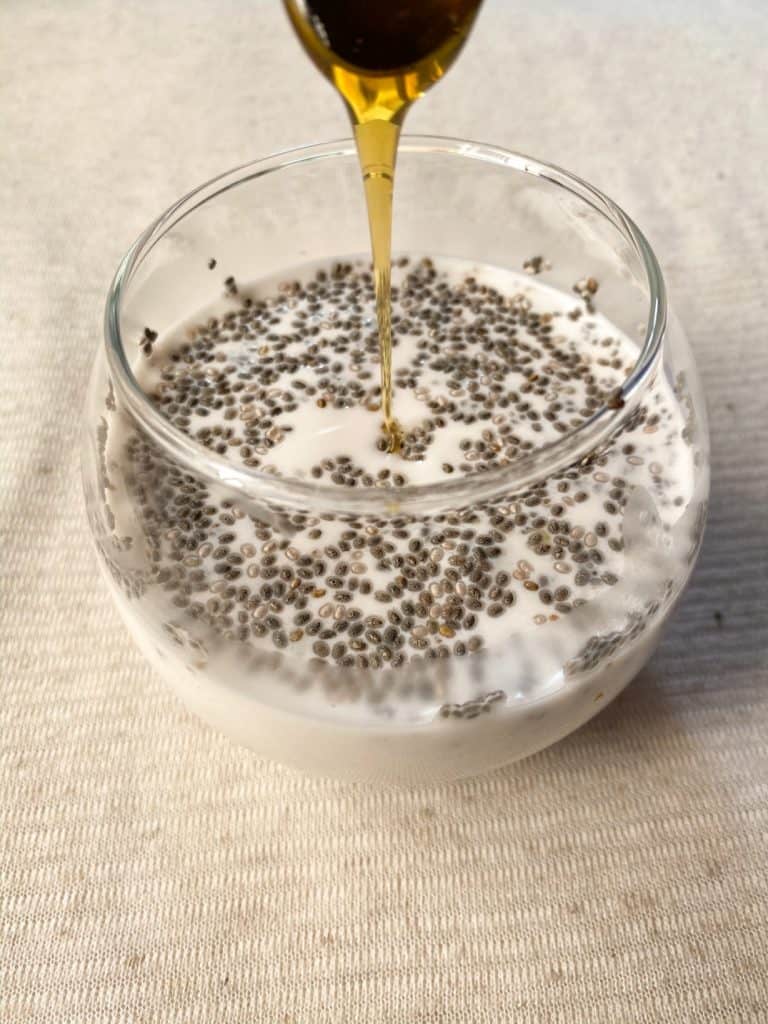 When I use coconut milk, I find that the natural sweetness of coconut milk and that of the toppings is sufficient for me.
After mixing and making sure there are no clumps, you can keep it aside for the seeds to absorb the milk and swell up. I soak it for at least 30 minutes so that they grow enough to my liking.
Soak the seeds until they lose their crunchiness and becomes more like a soft gel.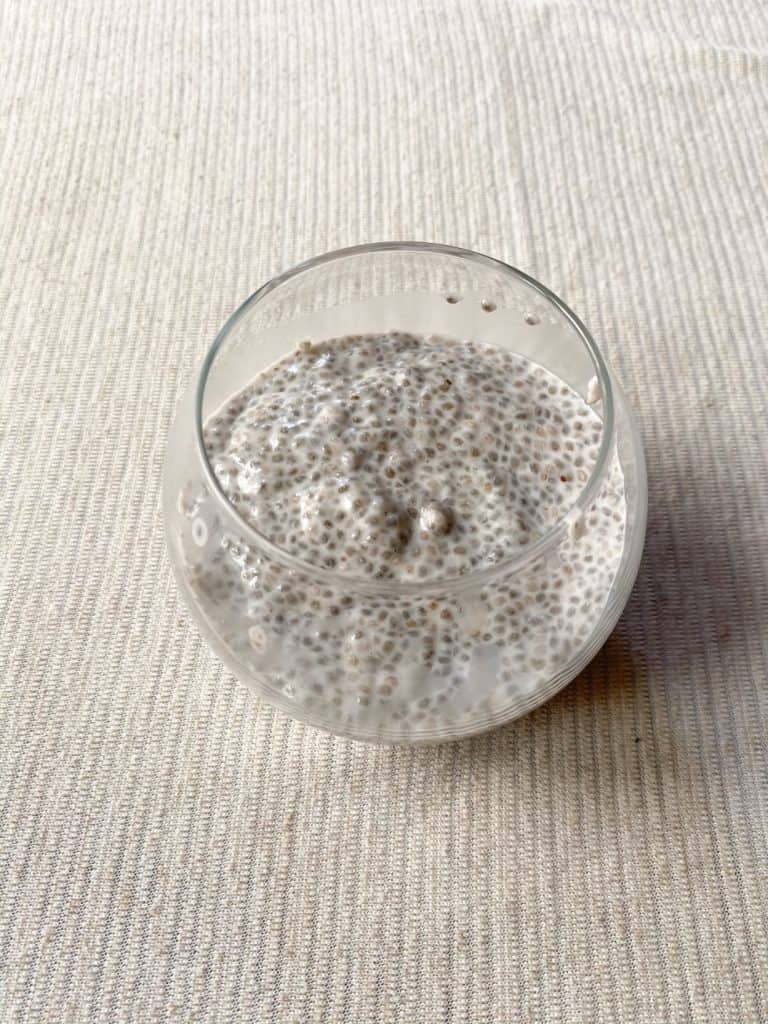 If you are having it for breakfast, soak it overnight so that you can grab it in the rushed morning hours.
So a basic chia pudding = Milk + chia seeds soaked for at least 30 minutes.
Types of milk that you can use: Any plant-based milk like almond milk, soy milk, cashew milk, coconut milk, or animal milk.
Sweeteners that you can use: Sugar, Honey, maple syrup, coconut sugar, dates paste, etc.
Optional flavors: Vanilla extract, cinnamon, etc.
How long do you have to soak chia seeds?
Usually, I find it's ready to eat after 30 minutes. But the more you soak, the better it absorbs all the liquid. Soaked chia seeds help in hydrating your body. Therefore, if it is well-soaked, it can help you keep fuller longer.
Hence, if you have time, you can keep it soaked for one to two hours. Otherwise, 30 minutes is good enough.
Now let's move onto the recipes.
STRAWBERRY CHIA SEED PUDDING
Make the basic chia pudding. I made this pudding using homemade cashew milk.
Then make some strawberry puree. To make strawberry puree, I took 2-3 strawberries and some honey (honey is optional). You can make it without a sweetener or add any other sweetener of your choice. Blend it.
Process until you get the desired consistency. And now you have the strawberry puree. Add this to the base of the jar. Or as a topping. Your preference.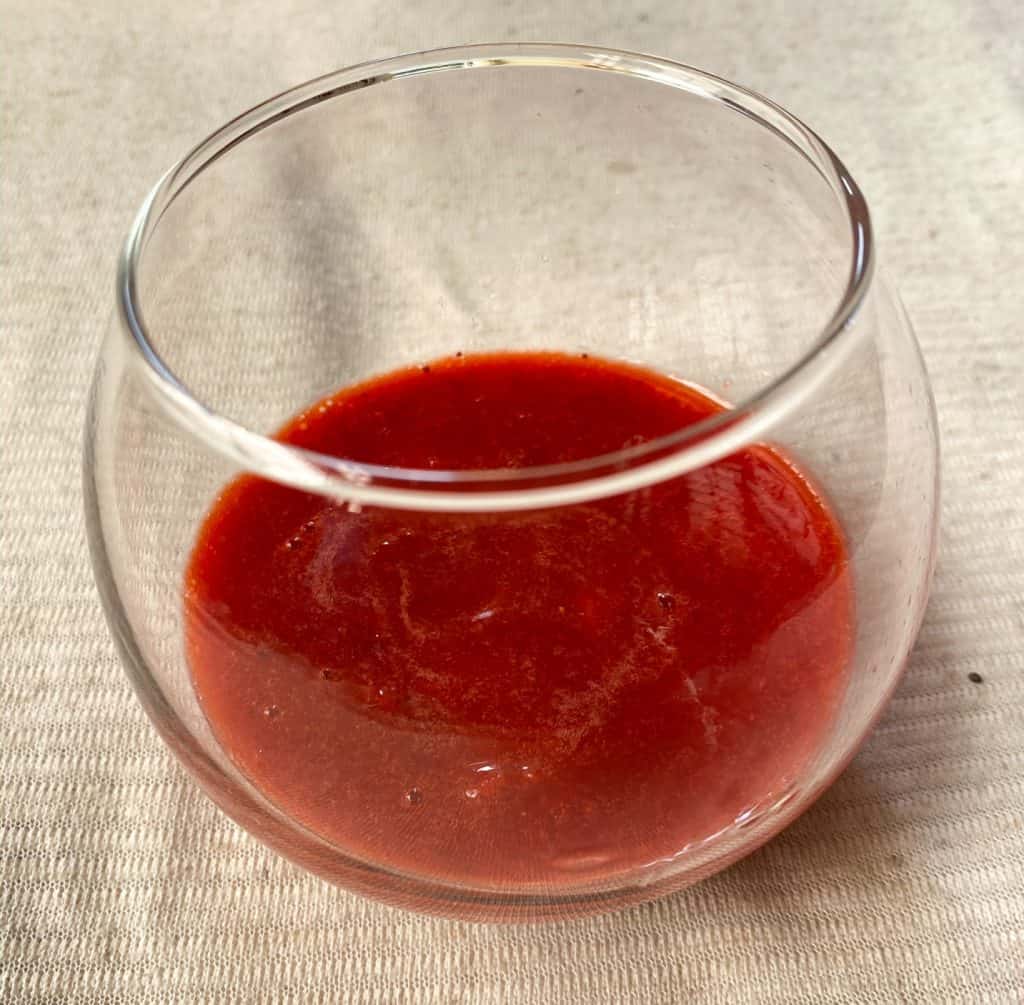 Pour the chia pudding.
Add the toppings. I added strawberries as the topping.
If you want, you can add half 1/4 teaspoon of vanilla extract for flavor.
But I had already added vanilla extract in the cashew milk so I didn't add it again to the pudding.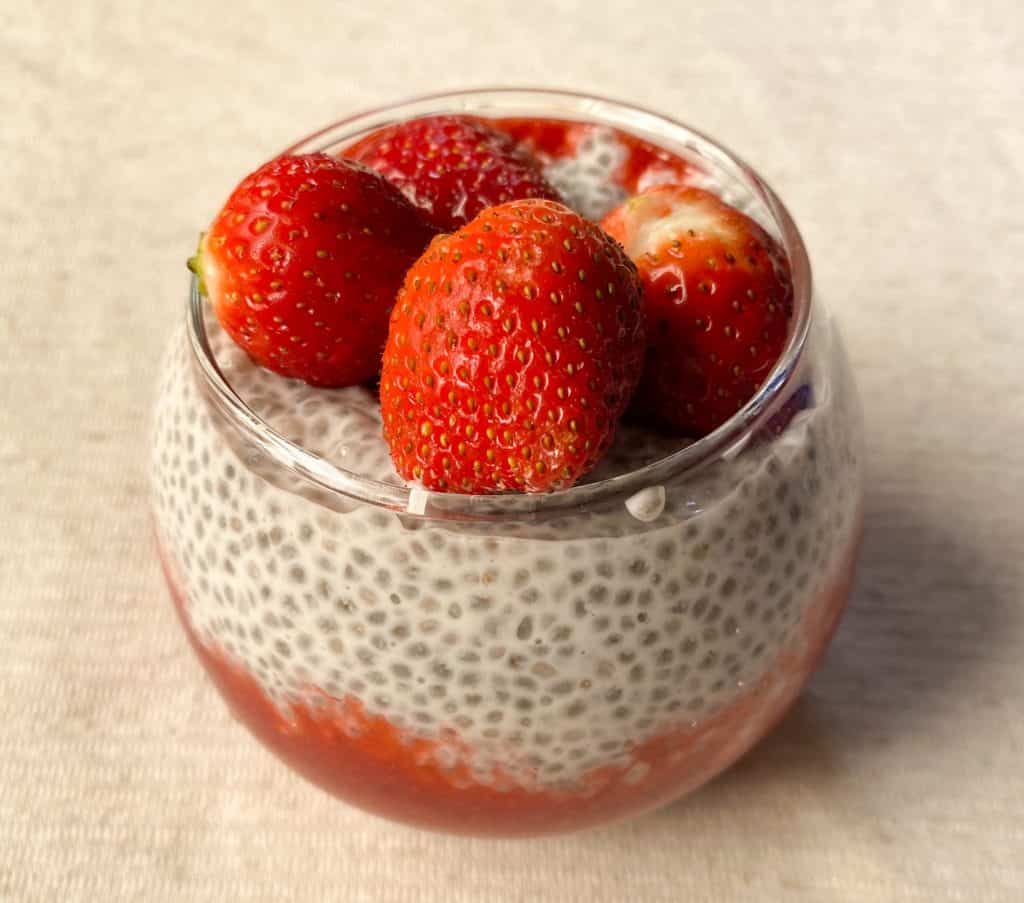 BLUEBERRY CHIA SEED PUDDING
Make the basic chia pudding. Then, make some blueberry puree.
To make the blueberry puree, add a few blueberries to your blender with honey (honey is optional). You can make it without a sweetener or add any other sweetener of your choice.
Pour the blueberry puree to the base of the jar.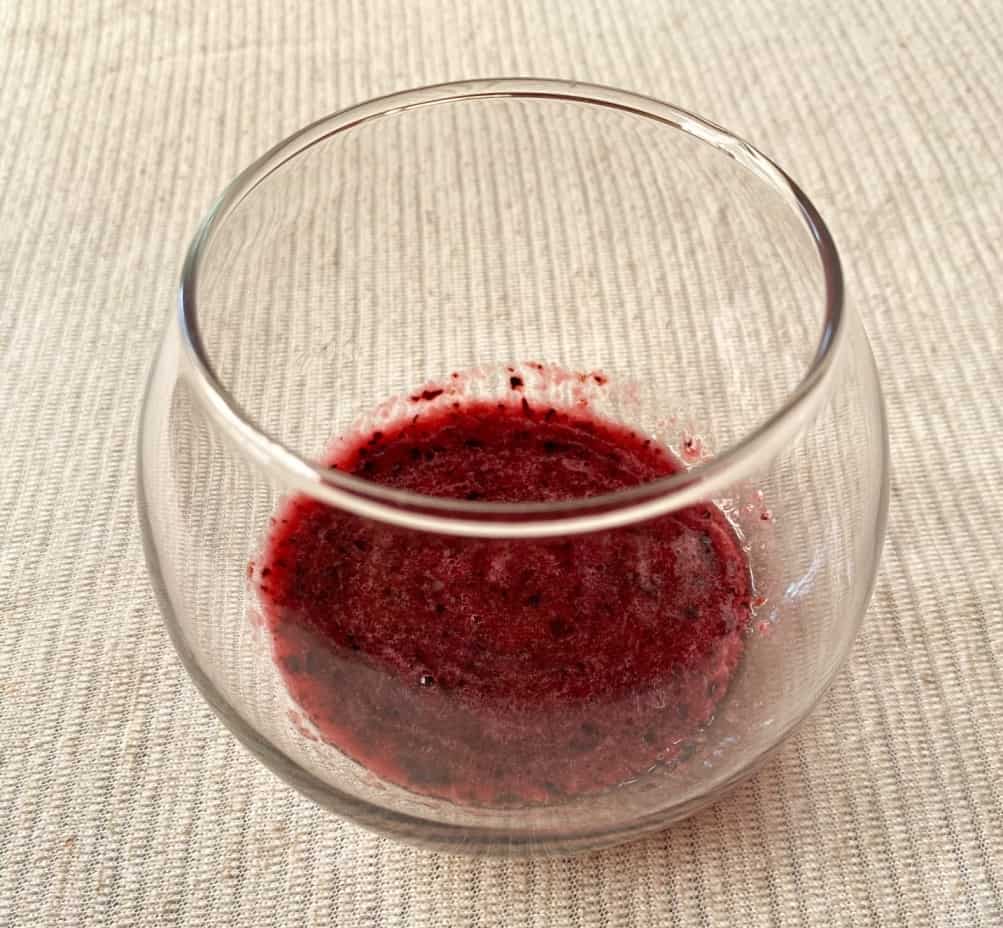 Then add some chia pudding. Then I added another layer of puree followed by chia pudding again.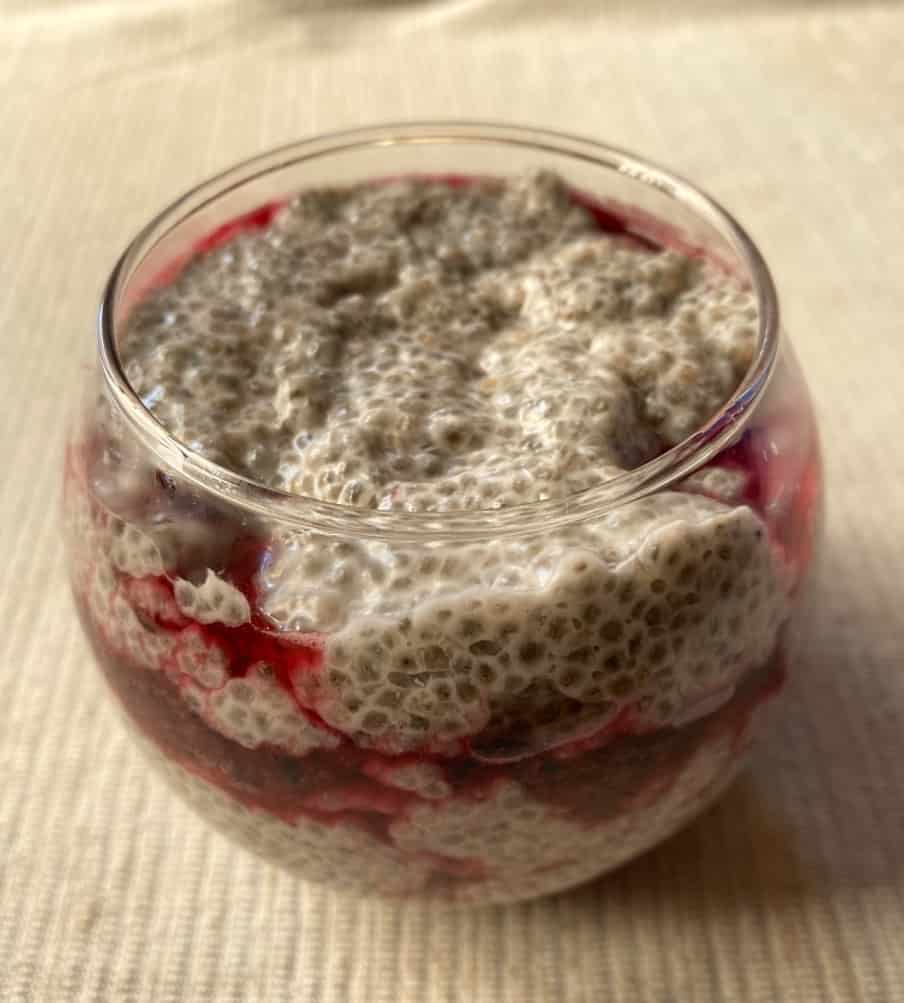 Then add some blueberries as the topping.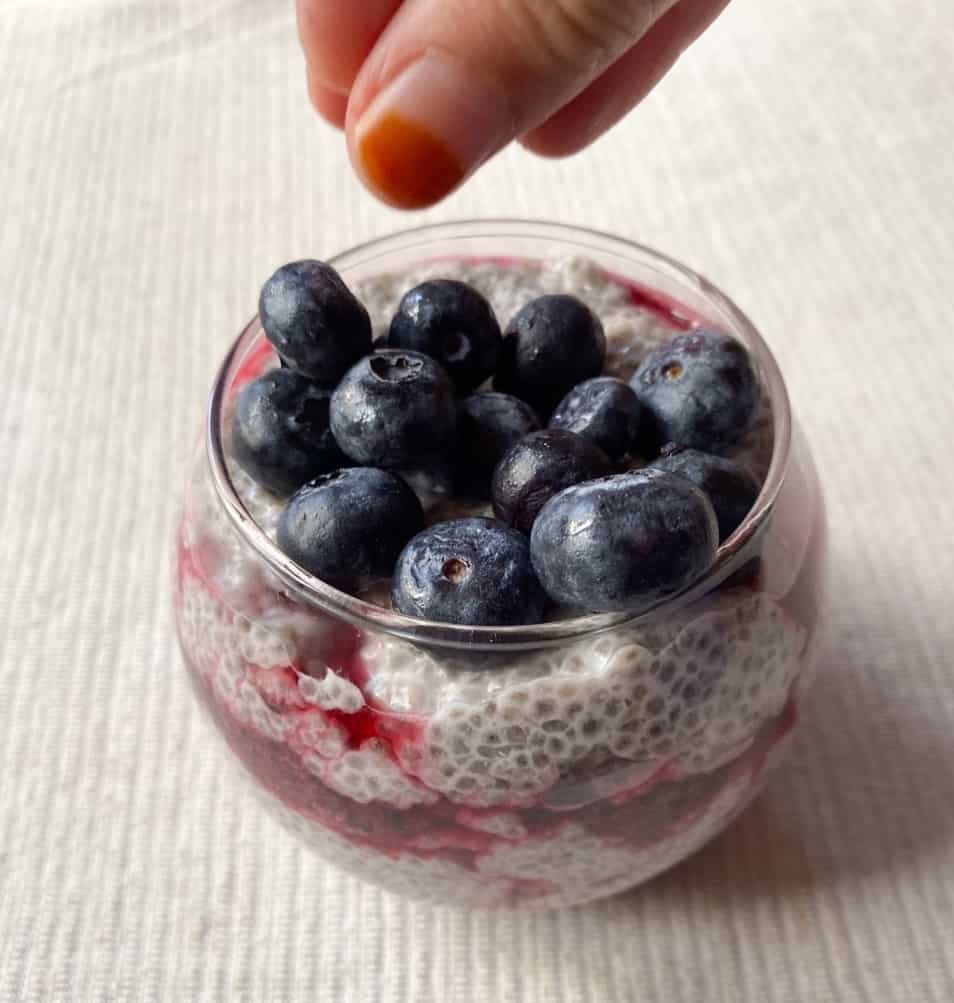 CHOCOLATE BANANA CHIA PUDDING
Make the basic chia pudding in a jar. I used coconut milk for this recipe.
To the basic pudding, add 1 tbsp cacao powder or unsweetened cocoa powder. I don't like the bitter taste of chocolate. So I added only 1 tbsp. Add more according to your taste.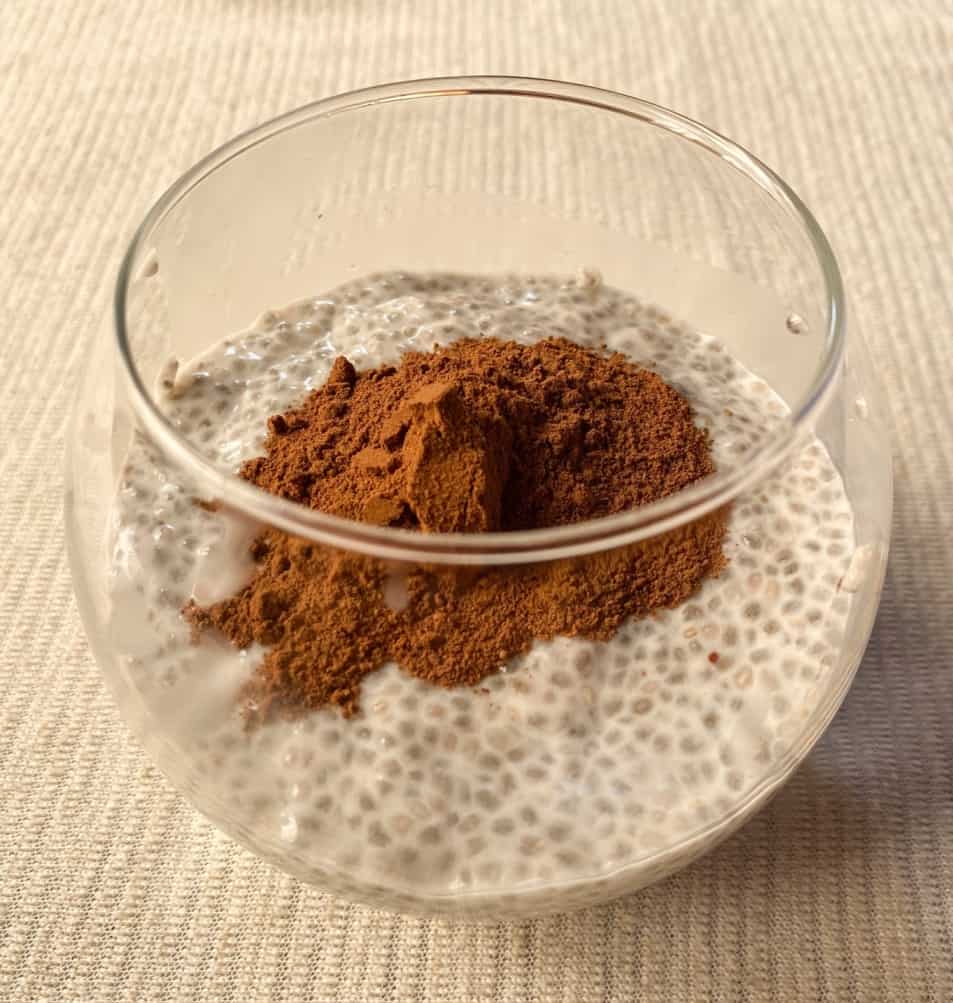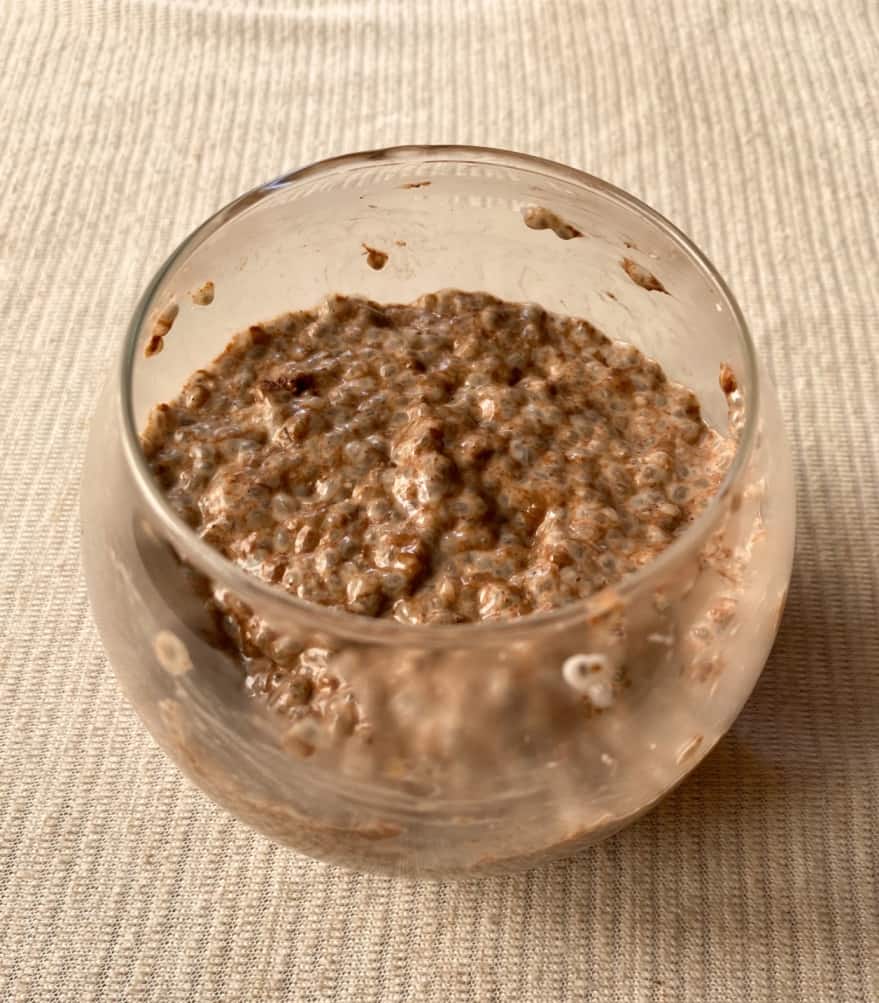 You can add banana pieces in the pudding as layers or as a topping.
Then as toppings, I added banana, chocolate chips (add cacao nibs for a healthier version), and a dollop of my homemade chocolate peanut butter.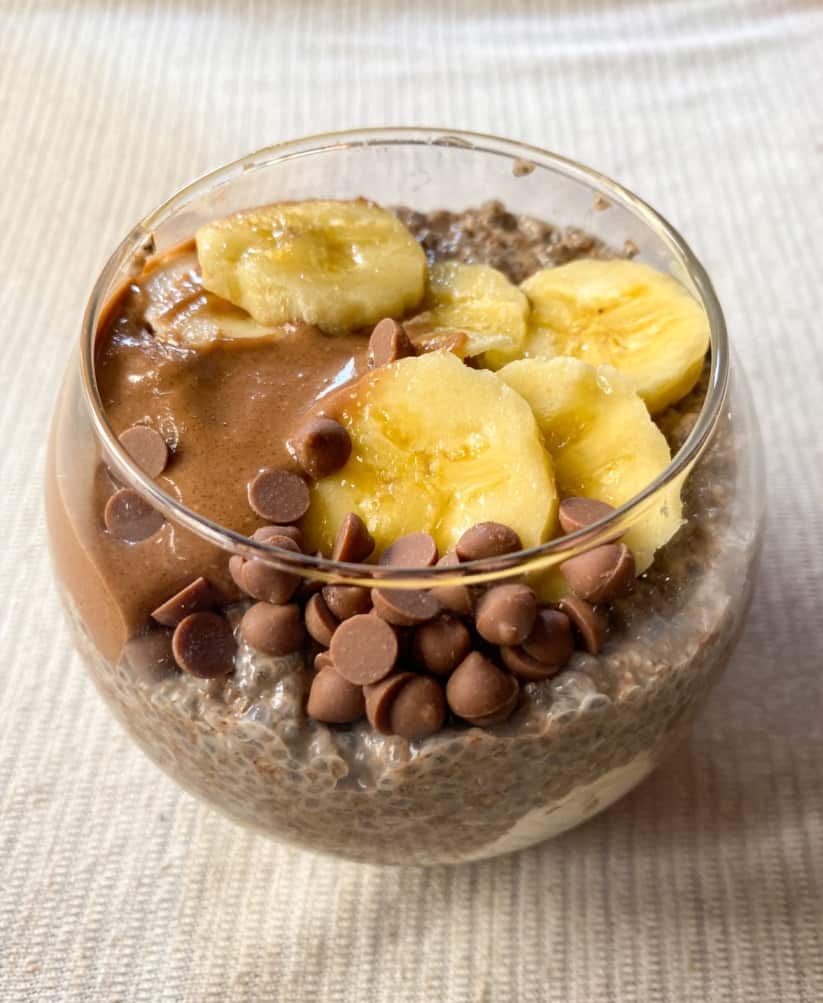 Since I am a chocolate lover forever, I like the third one the best. Which one do you like? Let me know in the comments below.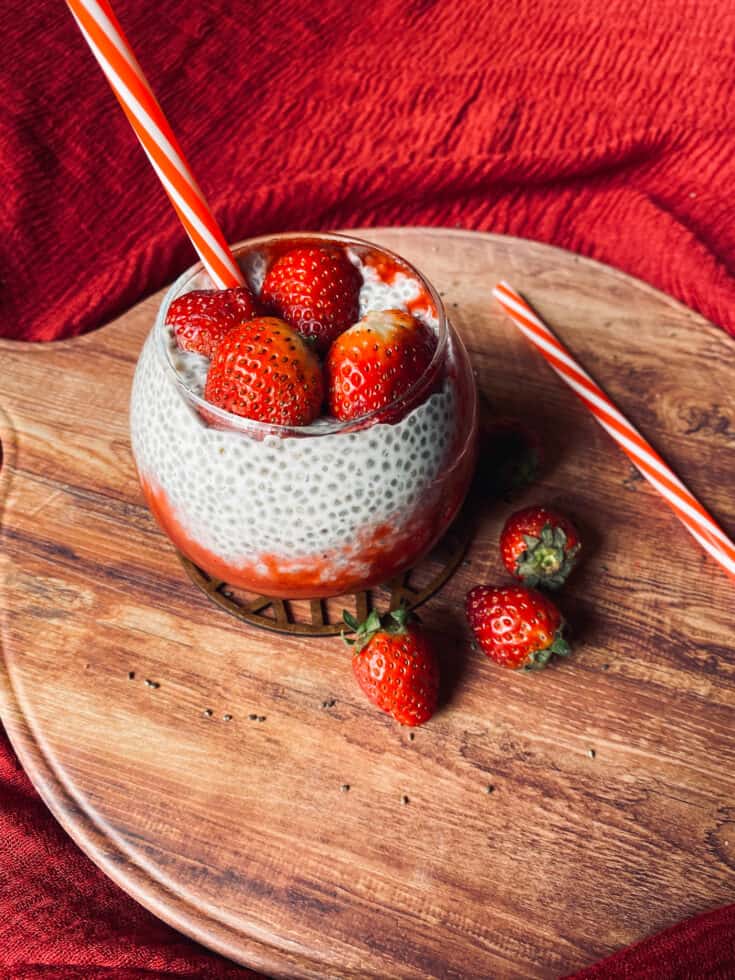 Yield: 1-2 servings
How to make chia pudding (3 delicious recipes)
Prep Time: 10 minutes

Additional Time: 2 hours 30 minutes

Total Time: 2 hours 40 minutes
This is the recipe for the basic chia pudding. You can make it in different varieties. Check the post for the recipe for 3 different flavor ideas. Chia pudding is great to be had as a breakfast or as a snack.
Ingredients
1 cup milk of your choice
Toppings (fresh fruit, nut butter, puree, etc) - optional
Vanilla extract, cinnamon powder, etc. for flavor (optional)
Instructions
Add chia seeds to a jar of milk and mix well.
Make sure there are no clumps and let it settle for 10 minutes.
Mix again to ensure there are no clumps.
Add sweetener(optional).
Keep it aside for 1-2 hours to soak up the milk well.
Refrigerate it overnight and before eating, add your preferred toppings.
Notes
If you are storing for more than a day, do not add sweetener or toppings. Just make the basic chia pudding and store it in an airtight container and keep it refrigerated. It can stay fresh for 3-4 days.
Nutrition Information:
Yield:
1 jar
Serving Size:
1
Amount Per Serving: Calories: 367Total Fat: 16gSaturated Fat: 4gTrans Fat: 0gUnsaturated Fat: 11gCholesterol: 20mgSodium: 134mgCarbohydrates: 46gFiber: 12gSugar: 18gProtein: 15g

Please note that the nutrition label provided is an estimate based on an online nutrition calculator. It will vary based on the specific ingredients you use. This information should not be considered a substitute for a professional nutritionist's advice. The nutrition value is for one serving without any toppings.

More healthy recipe posts:
Wanna save the recipe? Pin it to your favorite healthy recipes board on Pinterest!