Have you ever decluttered your home only to find it getting cluttered again in a few months' time?
And it took you forever to do that one decluttering. And now you are procrastinating again because that's what most of us do.
I used to do that too. But now I understand that this method is ineffective. Instead of decluttering once in a while, now I focus on making decluttering a daily habit and have a list of decluttering tasks handy so that I can do daily cleaning whenever I get a few minutes here and there.
And that is what this post is about.
In this post, you will learn about how to keep your home clutter-free by spending only 10 minutes daily.
When you go with this system, please don't expect a decluttered home in a week. Ten-minute decluttering is a slow process, but you can keep almost all areas of your home neat and tidy when you follow this daily.
All you need is ten minutes a day, three boxes, a notepad, a timer and the following list of decluttering tasks. If you find that a task takes more than ten minutes a day, stop it, and start again the next day.
Most of the time we procrastinate on cleaning because we overestimate the time required to do a task. But once we get started we get in the groove and it's easier to keep going. So, in those days if you have the time, you can continue with the decluttering even if it takes more than ten minutes.
But there is no pressure. You can always stop and start again the next day. Because our intention with the ten-minute daily decluttering challenge is to stop procrastinating on decluttering because we don't want to give in to the excuse of "no time".
**This post contains affiliate links. I may receive a small commission at no extra cost to you if you make a purchase through my affiliate link**
WHERE TO START?
If you can't decide where to start, start with your favorite room.
The room where you spend the most time in. Or the room you think needs immediate attention because you have been itching to throw away some stuff from there.
I like to start decluttering from the room I spend the most time in because it gives me an immediate boost in energy. This gives me the motivation I need to keep continuing with the decluttering.
For me, I spend the most time in my bedroom cum office space. So I like to start cleaning from the bedroom. Being an introvert, my bedroom is my safe haven and the most favorite room in the house.
Wherever you decide to start from, keep this list handy.
THINGS YOU NEED BEFORE YOU START THE TEN-MINUTE DECLUTTERING PROJECT
Two problems we face while decluttering are indecision and the difficulty in letting go of things that we are emotionally attached to.
We feel indecisive because we don't know where to move the items to and whether we will need them again. This happens when we have the habit of dumping the things that don't have a designated space to a catchall drawer. Or put them on flat surfaces.
While decluttering, we need to designate a space for each and every item otherwise the whole process would be ineffective. And if you can't come up with a place for each item, we have a solution. Keep reading.
Get three things ready before decluttering.
Three boxes – namely, "Later", "Donate" and "Toss"

A notepad

A timer (optional)
The first box named "Later" is to store your things temporarily until you find a permanent place for them. This box is for putting an end to procrastination due to indecisiveness.
For example, if you haven't decided where your stationery items should go, put them in this box. You can buy a stationery display rack from your home decor store later or a desk organizer like the following one online.


So, instead of procrastinating the whole decluttering process because you don't know where your stationery should be kept or if you are afraid of making decluttering mistakes, you have begun the process. And we can figure out the place it should go to later.
This box can also be used to store items for which you need to make space by decluttering another area.
For example, you know where your books should be kept. But the cupboard in which you want to keep the books is cluttered right now and you are yet to clean it. So, for the time being, you can put the books in the "Later" box.
You can use this box also for sentimental items. The items that bring a memory of a person, event or a place that you have some sort of significance in your life.
Like the dress your kid wore as a baby, your daughter's artwork, the crochet beanie that your mom made for you etc.
You feel sad and guilty about throwing them away, especially if the person is not with you anymore. If you decide to keep these items, place them in this box.
When you are able to find a permanent place for each item, what will be left is sentimental items. You can put them all together in a box and store it somewhere.
And go through these items periodically. What I have found is, sometimes I am ready to give away certain sentimental items because – we are humans and we change. So our likes and preferences change over time too.
The second box is to keep the items you want to donate (or sell) and the third one is to keep the items that need to be thrown away.
So, let's begin?
TEN-MINUTE DECLUTTERING TASKS FOR EACH ROOM
KITCHEN
Start with one side of the room. Open each cabinet and throw away broken items including plates, glasses and other cutleries.

Get rid of discolored plastic containers and containers with no lids.

Move the holiday dishes and dining sets to upper cabinets so that you can make space for the frequently used items in the lower cabinets.

Go through the cabinet under the sink. Throw away expired cleaning products and make a note to purchase the items that you want to replace (cleaning brushes, washcloths, scrubbers, etc) on your notepad.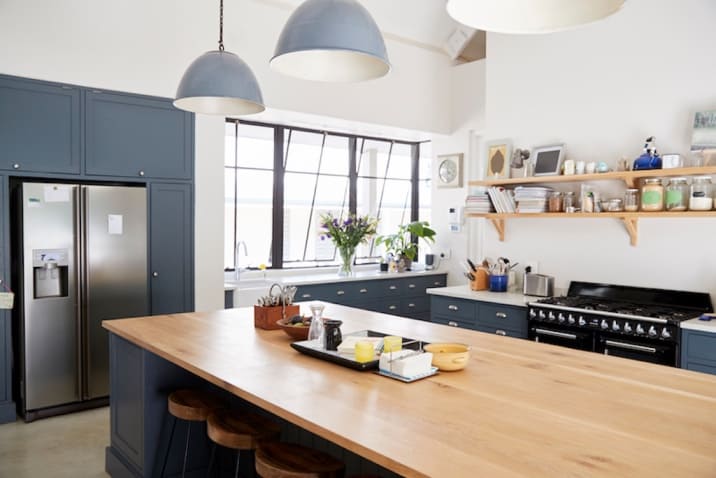 PANTRY
5. Go through spices and condiments and toss out the expired items.
6. Look for sauces, baking supplies, flours, the pack of chips that you opened but didn't finish, or any other food item past their expiry date. Discard them.
REFRIGERATOR
If you think you don't have time to clean the whole refrigerator, take 10 minutes a day to clean each shelf.
7. Go through each shelf and discard expired items.
8. If you have stored leftover food in large containers, transfer them to smaller containers to create space and for the food to retain freshness.
Investing in clear glass containers is a good idea to easily see what's inside and for the better health of you and your family.
CATCHALL DRAWER/CABINET
There is a drawer/cabinet in your kitchen (or could be anywhere in your house) where you put all the miscellaneous items. You can find cookbooks, old bills, loose change, broken appliances, fancy appliances you bought on impulse and tried once but never used again, etc.
As you know, you might need to make decisions regarding these items and that could be the reason you put them in the junk drawer.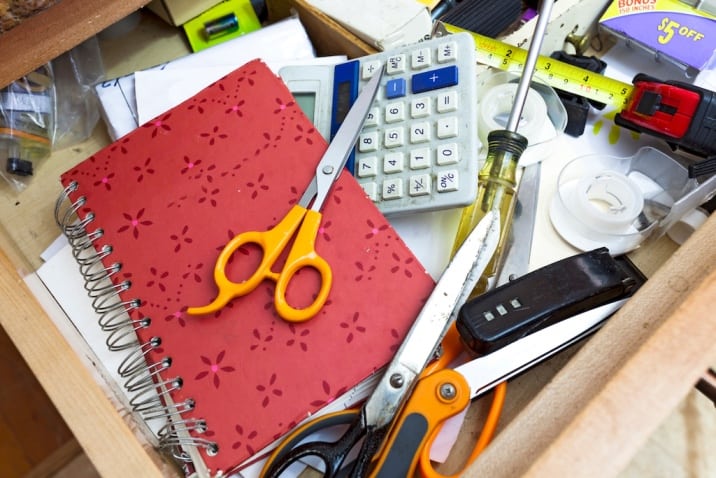 9. Put the broken things in the "Toss" box. Go through the cookbooks and see if you are still interested in the recipes (remember almost everything is available online now).
If yes, put them back and if you are not sure, put them in the "Later" box. Label the item with the date. The intention is to see if you need it within a year. If not, say goodbye to that item down the lane.
If you don't use it within a year, maybe you can give it to a family member or donate it.
To keep the drawer from getting cluttered again, note down the organizational products you need to buy. You can buy shelf dividers, jars for keeping change and small items, cabinet door organizer, etc. to keep it organized from then on.


10. Go through the medicine cabinet and dispose of the expired ones.
COUNTERTOPS
11. When you have created more space in your cabinets, declutter the countertops by storing the appliances you don't use on a daily basis inside the cabinets.
BEDROOMS
12. Go through each section of your wardrobe and put clothes that don't fit anymore in the donation box.
13. Put the clothes that need an alteration in the "Later" box.
14. Go through jewelry and organize and arrange them neatly in boxes, or get a jewelry organizer box like this.
15. If you have paperwork (including old planners and diaries) in the bedroom, go through each paper and keep the ones you need, neatly in a folder. Discard the rest.
16. Get rid of old magazines from drawers. If you have been saving it for a recipe or an informational article, clip those pages and keep them in a folder. You will save a lot of space this way.
17. If you are a book reader, you will be having a lot of fictional and non-fictional books stored somewhere in your room. Go through these books and think about how many of them you really loved and would want to read again. Or if you are done with them, but you want your kids to read certain books, keep them.
Donate the rest of the books to a friend/family member or to your local library.
One of the things I did recently to reduce book clutter and save money is buying the Kindle e-reader. I love books. I love the feel and smell of books. So it was a hard decision to make.
But the number of books I want to read in this lifetime is plenty. So storage space can become a problem.
Though I am still getting adjusted to the change, I feel better about the space I get to save.
If you want to reduce the book clutter, you can get started with reading e-books by downloading the free kindle app on your phone or tablet. That's how I started, but I recommend the distraction-free and the glare-free technology of an e-reader better.
18. Clean the flat surfaces in your bedroom by designating a space for each item. Put only the frequently needed items like keys, coins, TV remote, etc. on the surfaces. Note down if you need a decorative bowl like this to keep the random items in an organized way.
19. Declutter under the bed- get everything out. Take each item and put it in the corresponding box – donate, later or toss. You can sleep better from now onwards because you are not sleeping above junk that is accumulating dust causing allergies and bugs.
20. Go through the socks/lingerie/underwear/belt section and throw away anything that has holes, are discolored, torn and without its pair. Getting a divider or drawer organizer boxes for small clothing items will make sure you don't lose them.
If seasonal clothes take up space and make your closet look cluttered, put them in a box/shopping bag and store it somewhere else.
21. Go through your cosmetics and throw out the expired ones.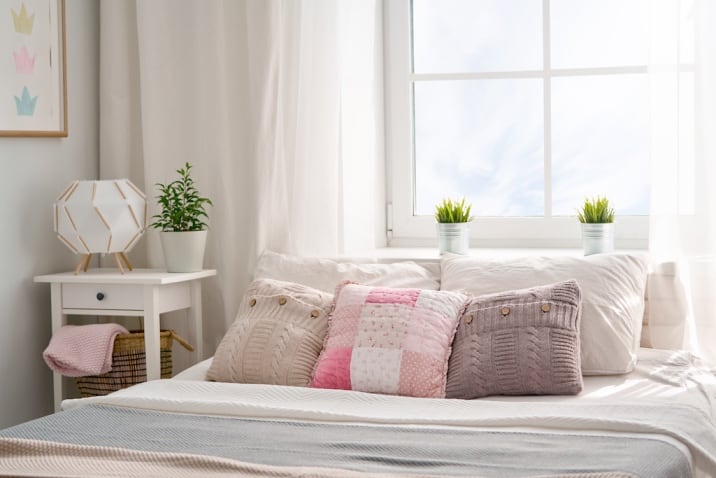 KIDS' ROOM
Clutter can get accumulated in kids' rooms faster because our little munchkins are always playing, experimenting and are active. So there are broken toys, crayons, art pieces, etc.
To declutter kids' rooms as part of the ten-minute decluttering mission, enlist the help of kids and respect their decision to keep or throw away their belongings.
If you think they are holding onto a toy that they never touch, tell them that they can keep it in the "later" box. And if they don't need it even after a long time, you can give it away.
22. Toss out all the broken toys, crayons, bits of paper, old notebooks and papers.
23. Donate the clothes that don't fit anymore. Throw away the undergarments with holes and socks with missing pairs.
24. Put the toys that they are not interested in anymore in the donation box. Make kids do it so that they can experience the happiness that comes in giving.
25. Make space for big toy sets like kitchen sets, dollhouses, etc, inside a drawer or in another room so that the room looks less cluttered. When you give away toys, you will be able to find space for the toys that they really use.
26. Clothes strewn around the room create visual clutter. Get a laundry hamper and a cloth hanger stand for kids and demonstrate to them how to use them.
LIVING ROOM
Since our mission is easy decluttering in 10-minute daily sessions, go through only one drawer or one piece of furniture per day.
27. Dispose of old DVDs, old magazines which are more than a year old, video games, storybooks, brochures, greeting cards, invitation cards, chargers and other assorted items that have been cluttering your drawers. If it takes more than ten minutes, neatly keep them aside and come back to it the next day.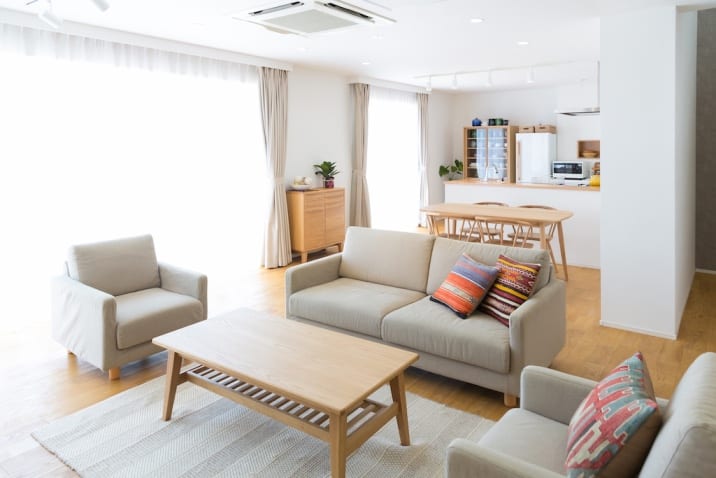 OFFICE
If you do not have a separate room to call "office", the office can be a desk where you have your computer, home printer, paperwork, and other office supplies.
28. Flat surfaces are the most prone to clutter. If there is anything else other than the basic supplies on your office desk, designate a place for them and move them. If you don't have a designated place yet, put them in the "later" box.
29. Go through all the pens, markers, whiteners, etc, and discard the ones with no ink or dried up ink.
30. Go through your paperwork and put all the finished ones that you no longer need in the bin. Organize the rest of the paperwork according to their status in different folders.
BATHROOM
31. Replace old toothbrushes with new ones. Throw away expired and empty bottles, soap pieces, razors, etc.
32. Sort through the cleaning products, and throw away the expired ones. Make a note of the new products you need to buy to replace them.
33. Sort through the skincare products and toss out the ones that are expired or half-empty bottles that you don't want to use anymore.
34. Toss out/give away all the hairbrushes that you don't use.
35. Get rid of the expired hair removal products
36. If your kids have bath toys, check if they still use it. If not, time to donate.
These ten-minute decluttering sessions will help you end procrastination and make your home clutter-free without putting in a lot of time.
Related: 100+ things to get rid of from your home right now
Like this post? Please take a moment to PIN and SHARE!